Stephenson to Perform as Mark Twain
Professor emeritus is also assisting with the production of 'Treasure Island'.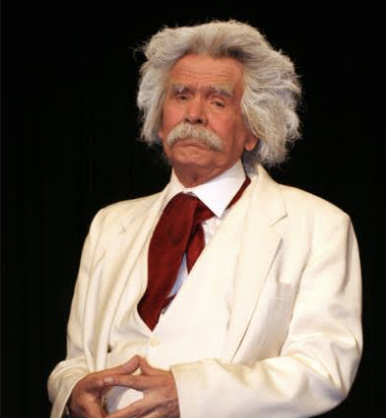 Rex Stephenson has returned to the classroom and the stage on campus this spring.
After retiring more than a decade ago and 50 years after he began teaching here, the professor emeritus of drama is teaching a course on improvisation, starring in a Mark Twain show, and assisting with a new production of his Treasure Island play.
Both plays will revive the dinner theatre tradition that attracted audiences from surrounding counties and states when the college hosted the Blue Ridge Dinner Theatre (BRDT). Stephenson was artistic director of the summer theatre throughout its history from 1979 to 2012.
He began portraying Mark Twain when a student organizing a variety show in the 1970s persuaded him to do a 10-minute act. After that, he presented a mostly one-man show based on Twain's humorous writings many times, including a special performance at the college's centennial in 2013.
On March 15, music from Twain's era will be performed by students and staff along with scenes from Twain's life and writings. "An Evening of Dinner & Theatre with Mark Twain" will begin at 5:30 with dinner in the Blue Ridge Mountain Room in Franklin Hall. The performance begins at 7:30 in Sale Theatre of Schoolfield Hall.
Tickets may be purchased for both dinner and show, or just the performance. Proceeds will benefit the college's theatre arts program, as part of a 24-hour day of giving sponsored by SMLGives.org.
Emily Blankenship-Tucker, performing arts professor and director of Appalachian Music, will direct the premier of Treasure Island as a musical.
"We are honored that Dr. Stephenson continues to share his wisdom and creativity with Ferrum College and the entire community as a performer, playwright, professor, and mentor. I feel privileged for every opportunity to collaborate with Rex," she said.
Blankenship-Tucker wrote more than a dozen new songs in the style of old sea shanties for this production scheduled for April 20-23. She has arranged and written music for Stephenson's plays since 2002, her second summer at BRDT.
Robert Louis Stevenson's adventure story full of pirates and treasure hunts will be dramatized by several dozen students, children, community members, and college staff. The cast includes alumnus Joe Stanley '93 and Jody D. Brown, professor emeritus of English and former executive director of BRDT. At an afternoon reception April 22, a new gallery displaying theatre history at the college will be unveiled.
Stephenson created his first version of Treasure Island in 1994, inspired by memories of "the only book my Dad ever gave me. He said it was his favorite book as a kid."
He continued writing adaptations of other classic novels for BRDT, including Heidi in the Blue Ridge Mountains, with music by Blankenship-Tucker in 2011. He always valued "the interplay between faculty and students" that he could develop onstage at Ferrum, outside the classroom, as well as casting children in some plays.
Stephenson also founded and performed with students in the Jack Tale Players, a tradition of folktale dramatizations and traditional music that he and other Ferrum performers have shared every year since 1975. This winter, they are leading an 8-week series of workshops for children at Windy Gap Elementary School, sponsored by Smith Mountain Lake Good Neighbors, Inc.
After retiring in 2012, Stephenson taught playwriting at Radford University three times, as well as providing storytelling and summer camp drama classes for many children's groups and older audiences. He described returning to teach at Ferrum College as "sort of like coming back home." For a list of all his plays and tales, see http://www2.ferrum.edu/thanlon/RRStephensonCompletePlays.pdf.
For tickets and details about spring productions, see https://www.onthestage.tickets/ferrum-college-theatre-arts-department?fbclid=IwAR2KFOeDf8m158HLXa9AAp8azpYmKXQ7kod7Ezcjn4jaDYGyK0KTGqNc7H8, or call 540-365-4336. Accessible parking and wheelchair access are available.