In a chaotic moment that left, students, faculty, staff, and bystanders scratching their heads, Accounting Professor Sadie Wallace's dog went missing during the Majors Fair in the Blue Ridge Mountain Room last Wednesday.
The fair took place from 11:30 a.m.-12:30 p.m., and Wallace noticed her dog was missing around noon.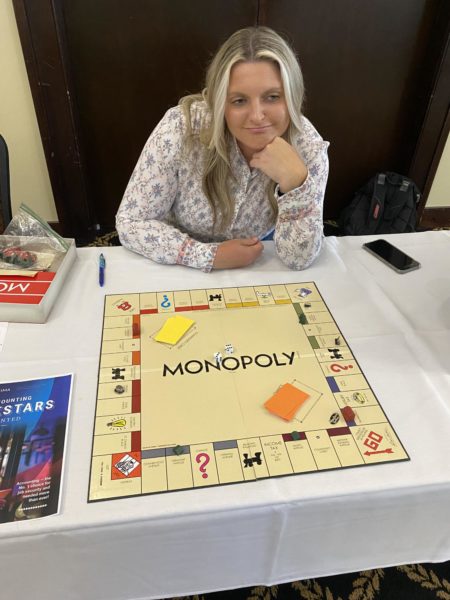 "I only turned my back for a second," a distraught Wallace said, running trembling fingers through her hair. "Oh where, oh where has my little dog gone? Oh where, oh where could she be?"
Wallace and others present scoured the area for the pooch.
"I don't want to point fingers, but someone has to know something," a forlorn Wallace said.
For their part, Campus Police are stumped.
"We received a complaint about a missing dog," Officer Justin Smith said. "We searched the area. We brought in our forensics team but were unable to find any paw prints or anything like that. We'll keep looking, but so far, nothing yet."
If they find the dog was stolen, Smith and company hope to collar a suspect soon.
Wallace is asking people to please keep their eyes peeled.
The dog is small, silver, weighs two grams, and is half an inch tall. It was last seen hanging out with a top hat, thimble, and race car, and making its way around a Monopoly board.
While Wallace was playing, the dog went missing in the crowd of students.
"We were just getting ready to pass Go and collect $200 when we noticed she was gone," Wallace said.
Wallace has tried taking matters into her own hands by calling the Humane Society in Rocky Mount to find her dog.
So far, calls to the Humane Society and Animal Control have gone unanswered.
Wallace is offering a Get-Out-of-Jail-Free card and $10,000 in Monopoly money to whomever can find and bring her back the dog.
"I know it's not a lot, but you can buy a hotel with that kind of money," Wallace said.
The top hat, race car, and thimble now rest lonely in the box knowing their dog is somewhere on Ferrum's campus.
Students who have information about the dog can contact Wallace via email at [email protected].