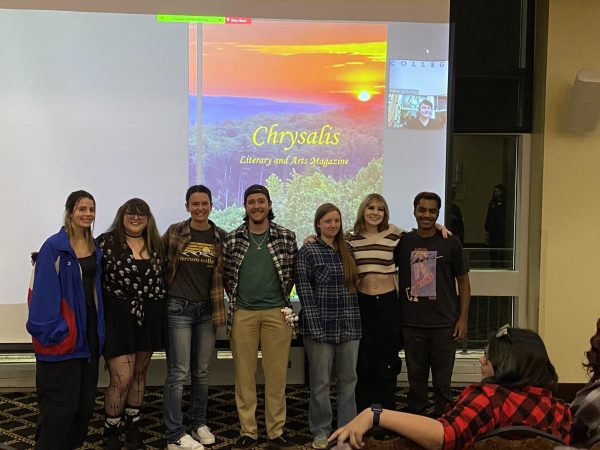 They had to bring out more chairs to accommodate the audience.
Friday night's Chrysalis Reveal was so well attended, officials had to augment the seating for what had been standing room only.
English Professor Katherine Grimes, advisor for the publication, introduced Emcee Kiersten Jones, senior, and kicked off the event.
Jones took her spot at the podium, filling in at the eleventh hour for ailing Editor Scout Lynch, sophomore. As the cover and inner pages of the magazine were broadcast on the big screen, Lynch looked on via Zoom, her video embedded in the corner of the projection.
Jones took the audience page by page through the magazine, highlighting winners in the categories of prose, poetry, photograph, and art.
Winners this time around included:
Cover: "Sunrise From My House" by Professor Abigail Jamison
First Place Photo: "Colors of Fall" by Stephanie Staats, senior
Second Place Photo: "My Best Friend Fur-Ever" by Samantha Reinhart, freshman
First Place Poetry: "My Weak Heart" by Sean Folquet, freshman
Second Place Poem: "Mine, Yours, and Ours" by Kiersten Jones, senior
First Place Prose: "Sandwiches at Meme's House" by Mary Grace Faulkner, senior
Second Place Prose: "Blue Cheese Moon" by Scout Lynch, sophomore
First Place Art: "Agrias/Sour" by Candela Perez Castellanos, sophomore
Second Place Art: "My Home" by DJ Dungee, senior
After the event, Grimes reflected on the evening.
"We didn't have our editor here," she said. "And I was concerned, but I thought Kiersten Jones did a wonderful job."
Grimes also said she was happy with the turnout.
"We had so many contributors who were here who talked about their work, and I was vey proud," she said.
Grimes remarked that the magazine staff had received entries from more than 35 people.
"Not 35 entries," she said. "Thirty-five people. I don't know (if it was a record) I've never counted before–but seems even more than usual."
For her part, Jones felt the magazine was a strong edition.
"I think it came out great," she said. "There were a lot of contributors, a lot of beautiful pieces, a lot of very talented students. I think it really showcases the talent we have here."
Jones also expressed some trepidation in being the face and voice of the event.
"I think it went as well as it could have gone," she laughed. "I'm glad that I got the opportunity to do it. I had a lot of fun with it. It was really cool to be up there and present everybody's works."