Faculty Athletic Mentor (FAM) Program to Continue This Year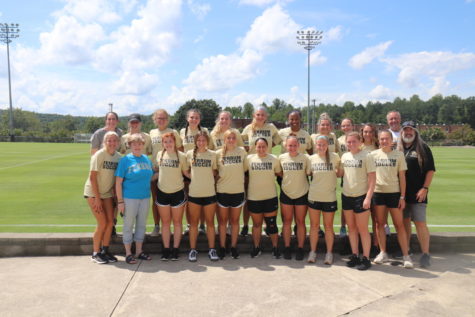 The college recently announced the continuation of the Faculty-Athletic Mentor Program (FAM), which began during the 2022 spring sports season. This mentorship program aims to bring faculty and athletic teams together to provide additional mentorship for our student-athletes and individual athletic programs.
"The FAM program is an exciting and unique opportunity, whose benefits will be enjoyed in multiple arenas," stated Katie Goff, Associate Professor of Biology and Program Coordinator of Pre-Professional Health Sciences. "This initiative will foster a sense of community and support among  faculty, student-athletes, and the athletic department, while providing an opportunity for faculty to experience the student development and fun that takes place through involvement in athletics. We will show the campus community, whether athletes or not, that Ferrum College is a place where they belong and that walks together 'Forged As One'."
In joining these groups together, the FAM initiative works toward the belief that the student-athlete experience is critical to the success of our institution. The success of our student-athletes, in turn, adds value to their contributions within our campus community, which will benefit all.
The FAM Program directly supports the college's institutional motto of Not Self But Others, as well as Ferrum's strategic plan for students to Enter with Promise, Leave with Purpose.
"I truly believe the FAM program will make a huge impact on our campus," said Head Football Coach Cleive Adams. "Ferrum College has always been a true campus community. As we emerge from the COVID era, we are granted the opportunity to get back to our roots by rolling out a new program that will benefit our entire campus community in a huge way!"
Ultimately, according to officials, the desired outcome of the FAM initiative is to create a functional bridge and partnership between athletics and faculty that will provide another level of accountability, professional development, and an appreciation of scholarship, competition and community that is unmatched within our region.
"The continuation of this partnership is extremely important as we continue to find creative ways to enhance the experience for our student-athletes," stated Director of Athletics John Sutyak. "I am extremely thankful for Dr. Goff and (football) Coach Cleive Adams for continuing to be leaders on this initiative as we move our community together 'Forged As One'."
| | | |
| --- | --- | --- |
| Sport | Head Coach | Mentor(s) |
| Baseball | | Delia Heck & Tim Durham |
| Men's Basketball | | Karen Carpenter |
| Women's Basketball | | Johanna Ferguson |
| Men & Women's Cross Country | Mark White | Abby Jamison |
| Cheerleading | | Martha Haley-Bowling |
| Football | Cleive Adams | Katie Goff |
| Equestrian | Margaret Cornwell | Nancy Brubaker |
| Field Hockey | | Rebecca Crocker |
| Men & Women's Golf | Tanner Brooks | Andy Shome |
| Men's Lacrosse | Interim Zach Louie | Tim Daniels |
| Men's Lacrosse | | Michael Hancock-Parmer |
| Women's Soccer | | Lana Whited & Dave Campbell |
| Softball | | Sadie Wallace |
| Men and Women's Swimming | Margerat Bisnett | Todd Fredrickson |
| Men and Women's Tennis | Rod Baker | Dana Ghioca-Robrect |
| Men & Women's Track & Field | Mark White | Abby Jamison |
| Volleyball | | Sadie Wallace |
| Men's Wrestling | Logan Miester | Jason Powell |
| Women's Wrestling | Connor Lepresi | Jason Powell |